Overview
Access the tools in the main toolbar by clicking Tools as shown below. This option is always available in the DentalCAD Wizard mode [A] and Expert mode [B]. The latest offers more possibilities with additional tools highlighted in red in the following image and are not available in Wizard mode.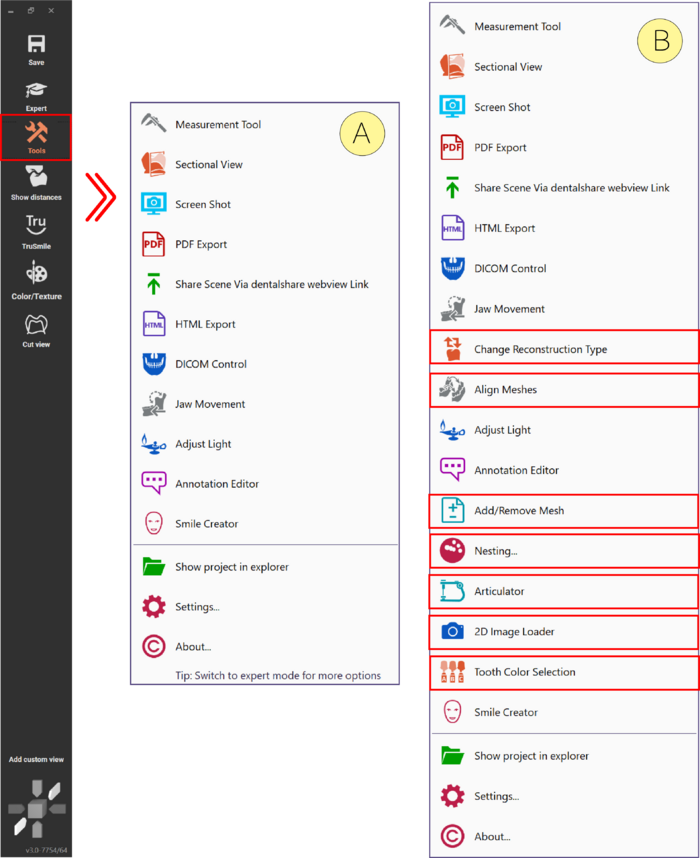 Measurement Tool
For measuring distance, thickness, or spacing for 3D objects on the screen.

Sectional view
An advanced tool that complements the Cut View that "slice" through objects which may be obscured.
Screen Shot
The Screen Shot tool captures an image of the currently displayed scene.

PDF Export
The PDF Export tool generates a PDF file that can be viewed in Adobe Reader.
Share Scene Via dentalshare webview Link
Share scenes via dentalshare to enable an efficient online collaboration exchanging cases from within the exocad software platform.
HTML Export
Export scenes as an HTML file.
Change Reconstruction Type
Change the reconstruction types of teeth.
Align Meshes
Tool to align meshes enables matching between any mesh objects in the CAD window.
Adjust Light
Change the virtual lighting in the DentalCAD scene.
Annotation Editor
Add annotations to scene objects.
Add/Remove Mesh
Using this tool, you can add and/or remove meshes.

Tooth Color Selection
Display the restorations in natural tooth color.
Articulator
Enables the virtual articulation.
Smile Creator
Load patient photos and match to 3D scans of the teeth to create 2D and 3D esthetic smile makeovers.