Connectors will be generated wherever it has been previously defined in the DentalDB.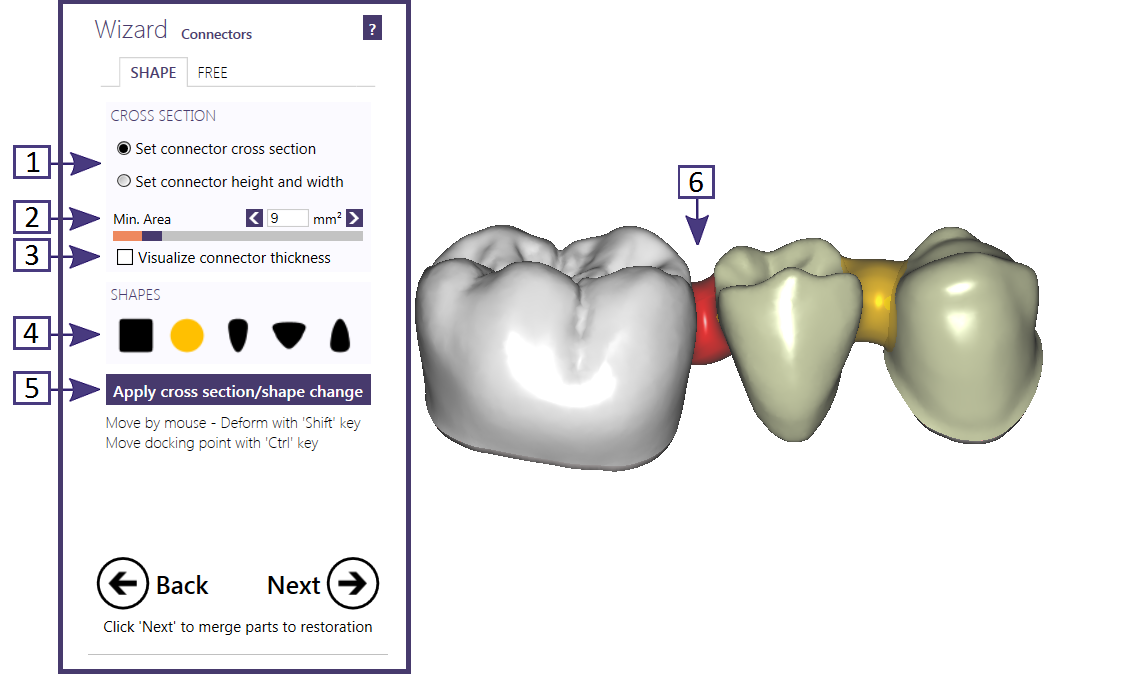 You can customize connectors in various ways. The minimum size of the connector may be defined either by its cross-sectional area, or by its height/width – toggle between the two modes using the radio buttons [1], and perform your adjustments using the slider [2]. To Visualize the connector thickness, click [3]. You can also switch between different predefined shapes by clicking Shapes [4]. To apply your changes, click Apply cross section/Shape change [5].
| | |
| --- | --- |
| | Any changes you make will be applied to all connectors. To apply different parameters/shapes to specific connectors in the construction, close the wizard and use the context menu (right-click the connector, choose 'Connectors...'. Alternatively, you can customize the connectors using the 'Free' tab, as explained below.) |
To change its position, simply drag and drop the connector using the mouse. It will readapt itself to the teeth once you drop it at its new position.
| | |
| --- | --- |
| | Dragging the connector will change its position on both sides – to change the docking place of the connector only on one side, hold <CTRL> and click the tooth to change the position of the docking point [6]. |
| | |
| --- | --- |
| | When generating connectors, the software tries to enforce the minimum cross-sectional area, or the minimum height/width. In some rare cases, this may fail due to space restrictions. The connector will then be displayed in red. This situation needs manual work to be resolved – try changing the location of the connector (by dragging & dropping it, or by repositioning the docking points), or use the connector free-forming as described below. |
Customizing connectors – the "Free" tab
Switch to the "Free" tab to further customize your connectors, or to visualize connector thickness.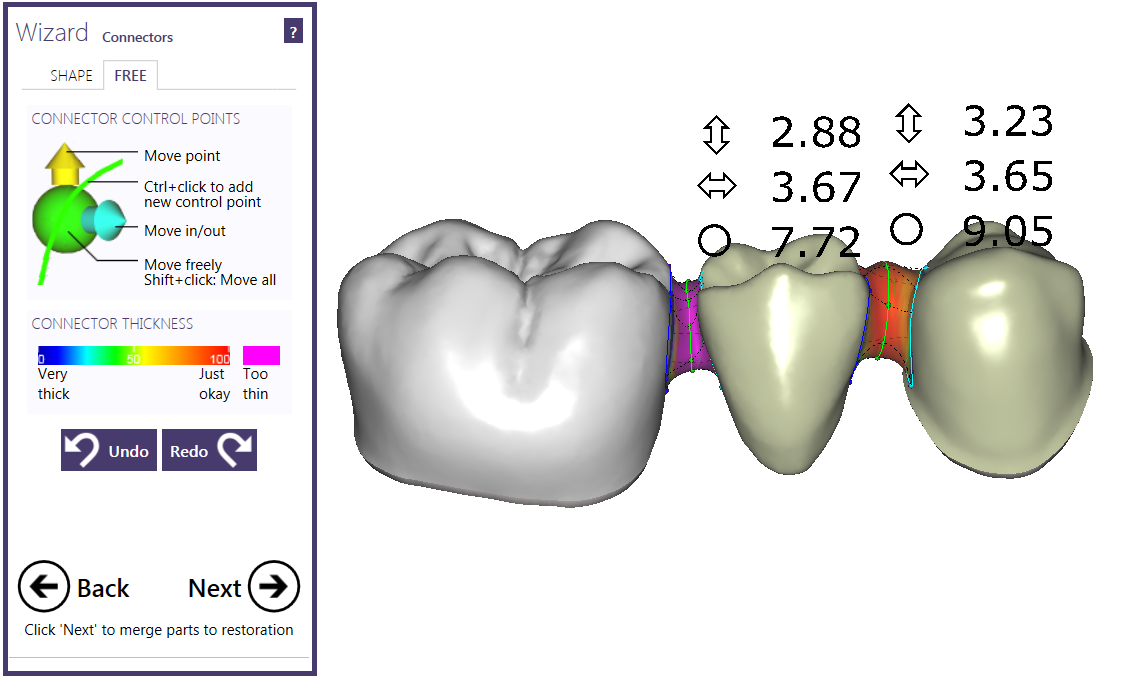 You can now edit connectors by moving control points. When you move the mouse close to one of the control points, it will grow and spawn arrows.
Drag and drop the control point itself for free movement in all directions
Drag and drop one of the arrows for movement that is restricted to the direction of the arrow
| | |
| --- | --- |
| | To insert additional control points, hold <CTRL> and click on the green line in the center of the connector, at the location where you'd like to insert the new control points. The more control points you add, the more freedom in designing complex connectors you have. To move several control points at once, hold <SHIFT> while dragging one of the green control points. |
| | |
| --- | --- |
| | With great power comes great responsibility – since you are free to shape the connectors as you desire, you can also make the connectors thinner than specified by the material parameters. If you design the connector substantially thinner as specified, the software will mark the approximate area which is too thin in magenta. Whenever you see a partially magenta-colored connector, do change its shape to make it thicker – unless you are willingly taking the risk of designing construction that may not be stable enough. |