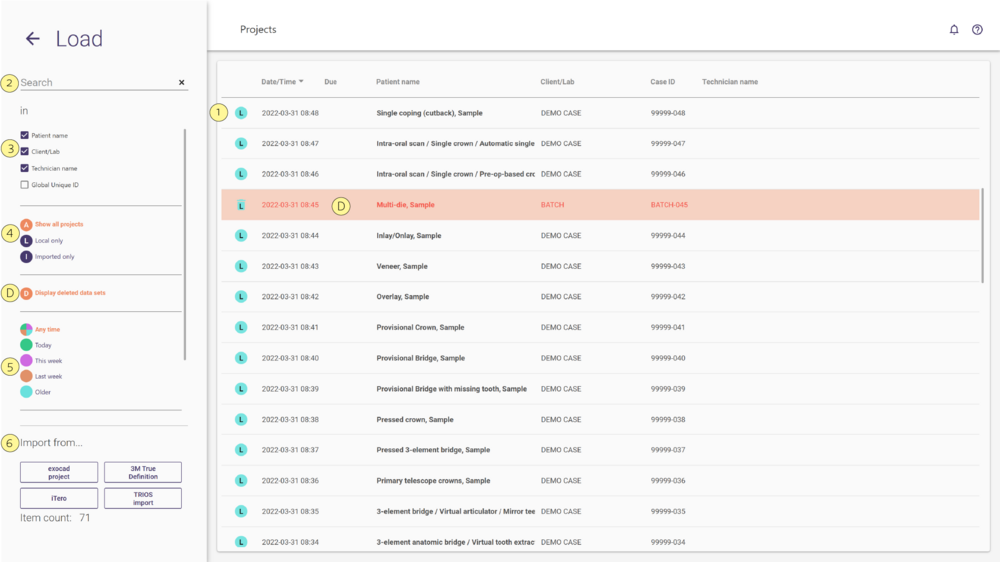 Jobs are color-coded depending on their age (exact color coding may vary according to your configuration – a color index is found at the lower left corner of the dialog)
To load a job, select from the list [1] and double-left-click it. If a previously un-saved project exists in memory, you will be prompted to save the old project, or confirm that you want to discard the previous project prior to loading the new one.
Right-clicking on any job will pop up the Project information dialog. You can Load [7] or view the contents of the project folder Open in Explorer [8] in this dialog. To delete jobs, refer to the section below.
Type any text in the Search[2] field to filter the job list using your search term. To clear the search term, click the "X" in the right of the search field (it appears as soon as you start typing). To restrict the search to certain fields, uncheck one or more of the boxes in the filter field [3].
To limit the displayed job list to display only locally generated jobs or only imported treatments, click the corresponding box in the project filter [4].
To limit the displayed job list according to the date, click the corresponding box in the time filter [5].
To import data from an exocad project or intraoral scan data select the corresponding option [6].
To close the dialog without loading a job, click the back arrow at the top left of the screen.

| | |
| --- | --- |
| | Different actions (like scanning, CAD, milling) can be performed on different computers. E.g. you can use one machine for scanning, save the job there, and then load the job on a different machine and do the CAD design there. This requires both the database file (DentalDB.sqlite) and the project directories to reside on a network drive accessible on both PCs. Ask your network administrator to set up the network drive and to reconfigure the DentalDB module to use a database file from a network location. |
Getting more information and Deleting jobs

To delete the job right-click on the job in the Load window to get the Project information. Then select the Delete [9] trash barrel icon. The job will then be hidden and disappear from the default "Load" list.
To recover (un-delete) a job, select the Display deleted data set [D] from the project filter. Deleted jobs will then appear in the list, in red text.
Right-click on the job , which will display a slightly different Project information window Then to un-delete the file click Recover[10]. To permanently purge the current job from the database, click Destroy [11]. Confirming "Yes" deletes both the database record and the constructed files. "No" deletes only the database entry, leaving the construction information in the project folder on the disk. DESTROYED PROJECTS ARE NOT RECOVERABLE
Configuring where case, client, and patient data is stored
Details on how to adjust the configuration where the software stores its data can be found here.