Attachment
The attachment feature is available in each free-forming step.
Start by choosing an attachment from the libraries provided by our partners.
Then click on the restoration to add the selected part to the restoration. By default, attachments will be added parallel to the restoration's insertion direction..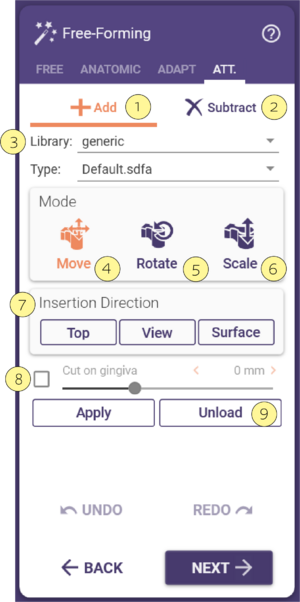 To add the chosen attachment select Add [1].
To subtract or boolean the attachment select Subtract [2]. It enables you to remove or cut out specified geometries from the restoration part.
Attachment Library and Type [3].
You can Move [4] by holding the left mouse button to drag the attachment.
Click on the Rotate [5] button to rotate it along the insertion axis.
Scaling [6] is also possible, but only for a few chosen attachments, as for most attachments the geometry shall not be changed.
Set the attachment direction [7] to the Top of the restoration, or the direction of the View or orthogonal to the Surface. When designing implant restorations, there are some more insertion axis options.
Check the Cut on gingiva [8] box if you desire to adapt the attachment to the gingiva and choose the desired distance. Positive values create a gap, while negative values lead to a specified intersection.
When clicking the Apply button, the attachment will be adapted to the gingiva and merged with the restoration. And you can Unload [9] currently placed attachment to work on a different reconstruction or hide it during regular free-forming.
| | |
| --- | --- |
| | Delete key has the same effect as Unload |
Parametric Design
You have the possibility to create attachments with a Parametric Design (Extrusion) feature.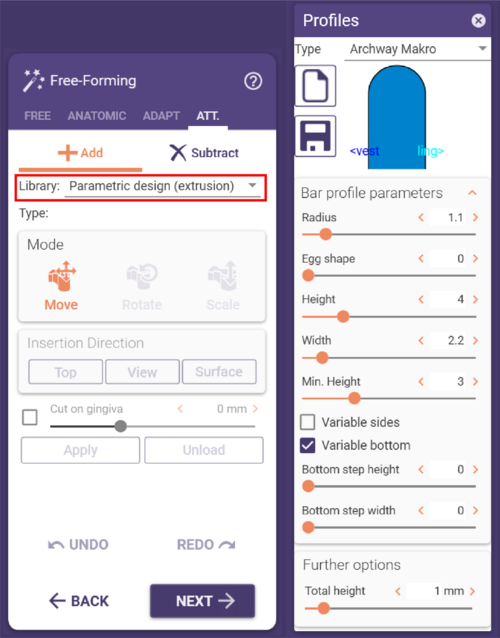 Select the desired cross section from the drop-down box in the Profiles window. The chosen profile will be extruded along the view axis.

Each profile can be adjusted and designed with a couple of parameters.
If you would like to use the adjusted profile again, your profile can be saved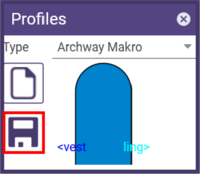 And loaded again later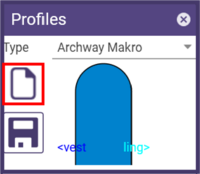 To place, hold the left mouse button to drag.Unless you click Apply you may still change the attachment design, even if it has already been placed.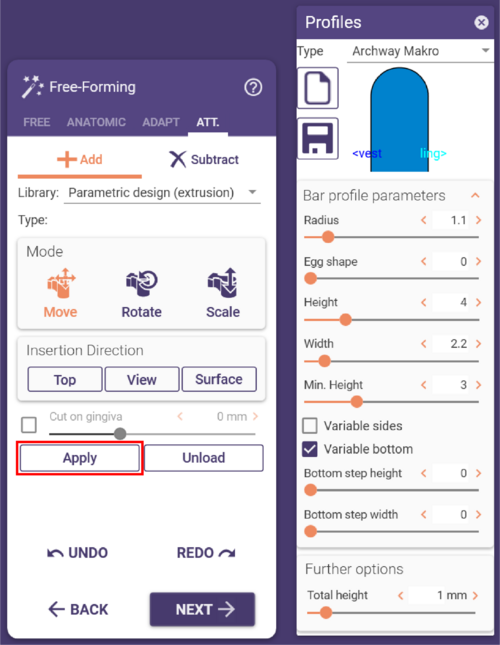 Parametric Design (Rotation) option, will rotate the profile around it's own axis. The same profiles are available as for the parametric extrusion.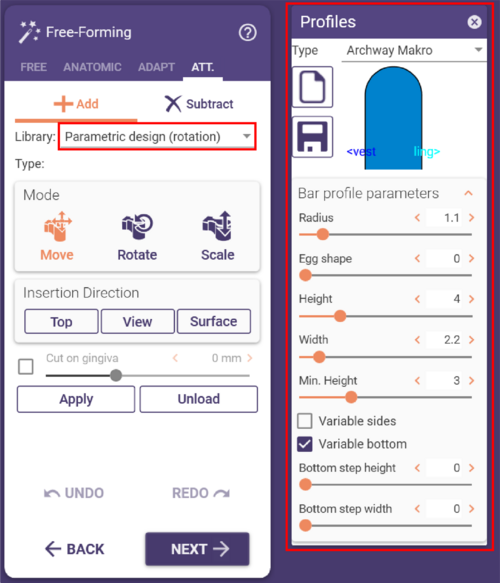 Text Attachment
You have the possibility to add Text to the restoration.
Type the desired text into the text field.
Place the text at the desired position.
You may use the sliders to adjust the size and thickness of the text.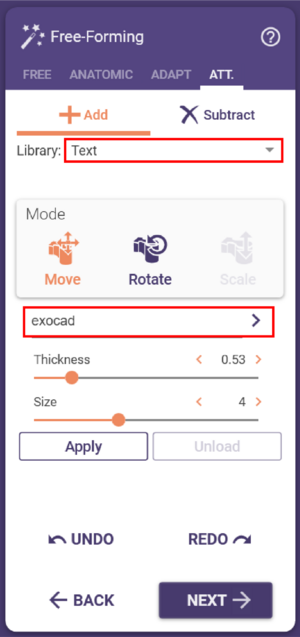 Among the provided libraries and the parametric design, you'll find in addition the possibility to import your own stl file.
Useful hotkeys are available in the "Attachment" mode.

Once the attachment is placed by mouse click, you can move it by mouse. Hold SHIFT to move along insertion direction, Hold CTRL to rotate around insertion direction

Hold CTRL+SHIFT to rotate freely].
Library
Blijdent
Conisch handvat.sdfa
Lepel handvat kort.sdfa
Lepel handvat lang.sdfa
Lepel handvat schein small.sdfa
Lepel handvat schein.sdfa
Steun Lepel.sdfa
Bredent
LV1-Retention.sdfa
Vario-Kugel-Snap oc 1.7mm.sdfa
Vario-Kugel-Snap oc 2.2mm.sdfa
Vario-Kugel-Snap sg 1.7mm.sdfa
Vario-Kugel-Snap sg 2.2mm.sdfa
Vario-Kugel-Snap threat sleeve 1.7mm.sdfa
Vario-Kugel-Snap threat sleeve 2.2mm.sdfa
Vario-Soft3 mini sv.sdfa
Vario-Soft3 mini.sdfa
Vario-Soft3 sv.sdfa
Vario-Soft3.sdfa
Vario-Soft Steg attachment.sdfa
Vario-Soft Steg bar attachment.sdfa
C+M_Dalbo
Dalbo-Hole.sdfa

C+M_M-SG_Star
M-SG_Star.sdfa

C+M_Mini-SG
Mini-SG-Male-part.sdfa

C+M_SG Geschiebe
SG Male part.sdfa

CEKA PRECI LINE
CEKA REVAX M2 female keeper 30.sdfa
CEKA REVAX M2 female keeper 45 No Plate.sdfa
CEKA REVAX M2 female keeper 45.sdfa
CEKA REVAX M2 female keeper 60.sdfa
CEKA REVAX M3 female keeper 30.sdfa
CEKA REVAX M3 female keeper 45 No Plate.sdfa
CEKA REVAX M3 female keeper 45.sdfa
CEKA REVAX M3 female keeper 60.sdfa
PRECI-CLIX male keeper 30.sdfa
PRECI-CLIX male keeper 45 No Plate.sdfa
PRECI-CLIX male keeper 45.sdfa
PRECI-CLIX male keeper 60.sdfa
PRECI-VERTIX male No Plate.sdfa
Generic
Default.sdfa
Generic-PR-V-slim-short.sdfa
Generic-PR-V.sdfa
Generic-VS.sdfa
GeoMedi MultiUnit
mmu-48-1.0.sdfa
mmu-48-2.0.sdfa
mmu-48-3.0.sdfa
mmu-55-1.0.sdfa
mmu-55-2.0.sdfa
mmu-55-3.0.sdfa
NobilMetal LV Kon-R16
KN-852-W-2gradi.sdfa
KN-852-W-2.sdfa
NobilMetal LV R1606
SG-1.7.sdfa
SG-2.2.sdfa
SP-TI45_A.sdfa
SP-TI45_B.sdfa
SP-TI60.sdfa
VR-3.5.sdfa
VR-4.0.sdfa
VR-4.5.sdfa
VR-5.0.sdfa
VR-5.5.sdfa
Phibo
A1-VERTICAL-30°_1.7_exocad.sdfa
A13-BOLA-1.7_CO-CR_exocad.sdfa
A14-BOLA-2.2_CO-CR_exocad.sdfa
A2-VERTICAL-60°_1.7_exocad.sdfa
A3-VERTICAL-30°_2.2_exocad.sdfa
A4-VERTICAL-60°_2.2_exocad.sdfa
A5-BOLA ROACH-1.7_exocad.sdfa
A6-BOLA ROACH-2.2_exocad.sdfa
Rhein83
OT Bar-Castable Bar.sdfa
OT Cap-Mirco-2mm Thread.sdfa
OT Cap-Mirco-Extension Arm.sdfa
OT Cap-Normal-2mm Thread.sdfa
OT Cap-Normal-Extension Arm.sdfa
OT Equator-2mm Thread.sdfa
OT Strategy-male.sdfa
OT Strategy-Steady.sdfa
OT Tenco-Extension Arm.sdfa
OT Vertical-Plus-Steady male.sdfa
Ring Donut
Donut-Shape-1.sdfa
Donut-Shape-2.sdfa
Donut-Shape-3.sdfa
Donut-Shape-4.sdfa
Donut-Shape-5.sdfa
Donut-Shape-6.sdfa
Ring-Shape-3.sdfa
Ring-Shape-4.sdfa
Ring-Shape-5.sdfa
Servo-dental
132111300.sdfa
132111300-SLM.sdfa
134141300-SLM.sdfa
134151300.sdfa
69977E.sdfa
Si-tec
HHK_PRIMAERTEIL.sdfa
SAFE-TEC_PRIMAERTEIL.sdfa
Sterngold
Era-Micro-overdenture-male-with-metaljacket.sdfa
Era-RV-Micro-male-metaljacket.sdfa
Era-RV-Micro-male-without-metaljacket.sdfa
Era-RV-Standard-male-with-metaljacket.sdfa
Era-Standard-overdenture-female-Outline.sdfa
Era-Standard-overdenture-male-metaljacket.sdfa
Era-Standard-overdenture-male-without-metaljacket.sdfa
Stern-Snap-Retaining-Cap.sdfa
TruAbutment DS
All-on-T-1.0.sdfa
All-on-T-2.0.sdfa
All-on-T-3.0.sdfa
T-LOC-1.0.sdfa
T-LOC-2.0.sdfa
T-LOC-3.0.sdfa
Unor
Mini-NPG.sdfa