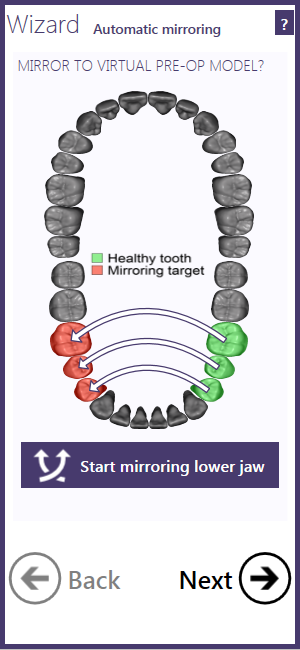 If appropriate for your chosen reconstruction type, the wizard will offer you to mirror the anatomy of healthy teeth from the opponent quadrant. If you decide to do so, you will later on be able to adapt your reconstruction, so that it will be of the same shape as the opponent tooth. Usually this leads to a more aesthetic result.
The arrows will show you for which teeth a mirroring would make sense. If you click "Start mirroring", a situation model will appear. You should place it so that the teeth you want to reconstruct are at the correct position. The position of all other teeth of the situation model can be ignored. In the corresponding dialogue click "OK" when you are done. The "Start mirroring"-button will change to "Discard actual situ" now, so if you change your mind, you can also return to the previous situation.
However you decide, click "Next" to proceed. Everything else will be done in the next steps.